Royal Sun Resort's 100 x 100 Tuna - Lucas Maes
Hotel in Acantilado de los Gigantes
100 x 100 Tuna - Lucas Maes
News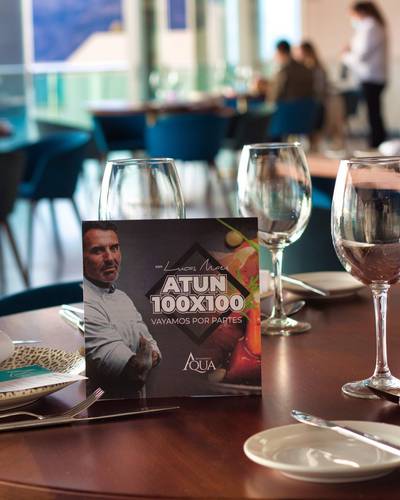 Under the title "Bigeye tuna 100 x 100 - Let's take it in parts", Maes invites you to taste its gastronomic approach to this tuna that year after year sails our Atlantic waters. Every season, at this time of year, the restaurants of the Islands are filled with fantastic dishes based on one of the most exquisite ingredients that the ocean around us provides; the Canarian bigeye tuna.

As could not be otherwise, when this excellent product falls into the hands and creativity of Lucas Maes, new proposals and elaborations arise, where the imprint of one of the most creative chefs in the Canary Islands turns his proposals into moments of gastronomic enjoyment at the highest level.


Under the subtitle "Vamos por partes" ("Let's take it in parts"), which started this Thursday 29th and for this Friday 30th, in two services, in his restaurant in Puerto de la Cruz, Zumaque Creative Casual Food and on Saturday 1st May in dinner service in Aqua Restaurant, in the Royal Sun Resort hotel in Los Gigantes, Lucas proposes a different and unique menu in which he explores parts and cuts of tuna that are not normally used in the kitchen.

This is a gastronomic event based around the Atlantic Tuna where we will discover recipes and preparations that use the most unusual and unknown parts of the Canarian tuna under the hand and creativity of one of the best chefs in the Islands.
Volver